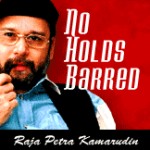 Two days ago, it was announced that Gadang Holdings has been awarded the Shah Alam hospital contract for a price of RM410.87 million. This is RM60 million above the approved price of RM352 million. The Ministry of Finance actually rejected Gadang Holdings as well as the price increase but the Ministry of Works went ahead and awarded the contract to Gadang Holdings and at a higher price as well.
NO HOLDS BARRED
Raja Petra Kamarudin
Gadang subsidiary gets RM410.87m Shah Alam hospital job
(The Edge, 11 Oct 2011) -- GADANG HOLDINGS BHD has accepted a RM410.87 million contract from the Public Works Department to undertake the completion of the abandoned works at the Shah Alam Hospital.
It said on Tuesday, Oct 11 that its wholly owned subsidiary Gadang Engineering (M) Sdn Bhd had accepted the letter of acceptance for the project at the 300-bed hospital.
Gadang said the contract was to be completed within a period of 24 months from the date for possession of site and was expected to contribute positively to its future earnings.
****************************************
Now read the exchanges of letters below between the Ministry of Finance and the Ministry of Health. It appears that the contract was awarded to Gadang Holdings at this higher price even though the Ministry of Finance rejected BOTH Gadang Holdings and the application for a price increase.
source : http://www.malaysia-today.net/mtcolumns/no-holds-barred/44109-so-who-calls-the-shots-then