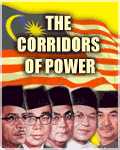 From this testimony, it is apparent that not only was it the Special Branch that approached Anwar and not Anwar who summoned them (and therefore "abused his power"), but that they knew it was Ummi who was behind the allegation, and a false one at that.

THE CORRIDORS OF POWER

Raja Petra Kamarudin

Special Branch investigation proves Anwar is innocent
Earlier, the Kuala Lumpur Appeal Court was told that Said Awang, the Special Branch Director then, had approached Azmin Ali, then Anwar Ibrahim's Chief Private Secretary, to make an appointment to meet Anwar.
In the meeting with Azmin, Said Awang solicited his help to persuade his sister, Ummi Hafilda, to retract the sodomy allegation against Anwar.
From this testimony, it is apparent that not only was it the Special Branch that approached Anwar and not Anwar who summoned them (and therefore "abused his power"), but that they knew it was Ummi who was behind the allegation, and a false one at that.
On the third day of Anwar's appeal hearing in the Kuala Lumpur Appeal Court, Fernando told the court that Said Awang testified he had written a letter to the Prime Minister on 5 August 1997 confirming that not only was Anwar innocent of the sodomy allegation, but that there was a conspiracy at the highest level to frame him.
"Said Awang confirmed that Tun Daim and Rahim Thambi Chik were in the conspiracy," said Fernando.
"He also confirmed that Dato Seri Anwar is not guilty and a victim of a conspiracy."
"Said informed the PM that, from their intelligence gathering, there is no basis for these allegations. In other words, these allegations are baseless."
"Said's letter also talks about a conspiracy by certain people with their own agenda to get Ummi and Azizan to smear Dato Seri Anwar."
"After a thorough investigation, they came out with the report to the PM."
From this testimony, it shows that as early as 1997 the conspiracy to get Dato Seri Anwar already existed. The Prime Minister even defended Anwar by saying that the allegation is false and was fabricated by certain people who do no want to see Anwar becoming PM. In fact, even the Chief of Police then shared this view and said so.
"The PM came out with an even stronger statement that whoever believes these rumours must be stupid and should be shot," said Fernando.
"The conspirators wanted to prevent Anwar from becoming the Prime Minister because he had introduced draconian amendments to the Anti Corruption Act in an attempt to clean up the government."
"And all these conspirators had something to lose if this happened and they were worried."
"In one transaction alone, Tun Daim (illegally) made RM600 million."
"Rahim Thambi Chik had RM39 million in one back account. And that's only the one we know about. How could he, on his Chief Minister's salary, have accumulated so much money?"
"Rafidah Aziz had four charges of corruption against her. And the Attorney-General, Abdul Gani Patail, had signed the papers recommending prosecution."
However, the trial judge refused to allow all this to be raised in the trial.
"Time and time again the judge gave the benefit of the doubt to the prosecution whereas he ought to have given it to the defence," lamented Fernando.
"The judge ignored basic fundamental principles of law. He is in fact guilty of judicial misconduct."
"Whenever there was any testimony in favour of Dato Seri Anwar he would block it."
"This happened to every single witness without exception."
"Irrespective of whether the court is convinced in its own mind of the guilt or innocence of an accused, its decision must be based on the evidence adduced and nothing else."
"Whether the judge agrees that a crime has or has not been committed is irrelevant. The decision must be based solely on the evidence."
In Anwar' case, however, the judge consistently and flagrantly blocked all favourable evidence and prevented witnesses from being called. Even while the witnesses were testifying and it looked like the testimony was in favour of Anwar, he would stop the witness halfway without allowing him or her to finish.