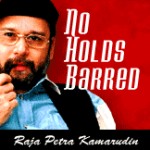 It seems
Utusan Malaysia
carried a news report on my TV3 interview and a police report had been made by someone relating to this
Utusan Malaysia
report. So it was not about my June 2008 SD. It was also not about my TV3 interview. It was about the
Utusan Malaysia
news report.
NO HOLDS BARRED
Raja Petra Kamarudin
Just before the start of the Malaysian Civil Liberties Movement (MCLM) talk in Thailand at 6.00pm yesterday, a police officer attached to the Malaysian embassy in Thailand approached me and requested that I follow him to the embassy for my statement to be recorded. He informed me that a police officer from Kuala Lumpur, ACP Aziz, is in town waiting to see me.
I asked him what the statement was in relation to and he informed me that it was about my Statutory Declaration (meaning, I assume, the one I signed in June 2008 -- since that was the only one I have signed).
I told him I was prepared to go but only after the talk ends at 8.00pm. I also told him I was going to announce this and he agreed. I then informed Haris Ibrahim and Amarjit Sidhu about the matter and they went into panic mode. I only found out later that the Deputy IGP had also made a statement on the matter and that it was carried in the online mainstream media networks.
During the two-hour talk and Q&A, my wife received many phone calls from other lawyers from various parts of the world as well as from friends and family who told my wife to not let me go into the Malaysian embassy. My phone was switched off, naturally, as I did not want any interruptions during my talk and this added to the panic when no one could reach me.
When the talk ended my wife immediately confronted me and was almost in a state of hysteria. She was adamant that I am not going into the embassy and that there is no compromise on the matter. Haris and Amarjit told me that if I persist and refuse to listen to their legal advice then they are cutting off all links with me and will no longer have anything to do with me.
I told Haris and Amarjit to discuss this matter with the embassy official, which they did, and they told him that if the police want to take my statement they could always come to the hotel to do it. It need not be done in the embassy.
The embassy officer left and came back to the hotel a while later with two police officers. A heated discussion, which turned into a shouting match, ensued and it appeared like it was about to become something very physical. Both sides, the lawyers as well as the police officers, did not want to back down.
My lawyers demanded to know what the whole thing is about. ACP Aziz appeared evasive and said that it is about my statement. "Which statement?" my lawyers asked, and they were told it is about the
Utusan Malaysia
report.
It seems
Utusan Malaysia
carried a news report on my TV3 interview and a police report had been made by someone relating to this
Utusan Malaysia
report. So it was not about my June 2008 SD. It was also not about my TV3 interview. It was about the
Utusan Malaysia
news report.
My lawyers then asked under which section of the law they are taking my statement. The police said it is under Section 203.
Amarjit then told ACP Aziz that back in 2008 they had already taken my statement under Section 203. And my statement was taken under Section 112, which means I was being interrogated as a mere witness. However, they finally charged me under Section 501, which is for criminal defamation, and not Section 203, which is for making a false statement.
ACP Aziz said that this was not his decision but the Attorney General's decision.
Amarjit then asked to see a copy of this 14 April 2011 police report and ACP Aziz did not have it with him. He asked us to follow him to the embassy to see it and Amarjit and Haris said they are prepared to go to the embassy but that I am to stay in the hotel. The police wanted all of us to go to the embassy but Amarjit and Haris disagreed.
Amarjit and Haris finally followed the police to the embassy while I waited at the hotel. They came back way past midnight and told me that they had to wait an hour for the police report to be faxed from Kuala Lumpur. It seems ACP Aziz did not have a copy with him. And the police report clearly stated that
Utusan Malaysia
had carried a report about my TV3 interview and that I should be investigated for it.
The impression my lawyers got is that the investigation is against me and that it is focusing on the possibility that I lied in that TV3 interview. That is why the investigation centres on this police report and on Section 203.
And that was exactly what happened back in 2008, which resulted in me being charged for criminal defamation. So we were seeing history being repeated here.
After discussing the matter further, I told Haris and Amarjit that I will consent to my statement being recorded in spite of this utter confusion. They disagreed but finally relented on condition that I do not walk into the Malaysian embassy. This decision was relayed to ACP Aziz who lost his temper and said that he no longer wishes to take my statement.
I then phoned ACP Aziz to inform him that I volunteer to make my statement but he told me the same thing he told Haris, that he is no longer interested to take my statement.
And that was how the Bangkok drama ended at 2.00am this morning.
For the record, I am prepared to give my statement. My lawyers, however, disagree because the police are vague as to the reason my statement is required but will compromise on his matter as long as it is not at the Malaysian embassy. The police are adamant that it must be at the embassy.
So where do we go from here?
source : http://www.malaysia-today.net/mtcolumns/no-holds-barred/39964-drama-in-bangkok